I LIKE UPPA'S, LIKE COUGHFEE
A few thoughts and coffee topics here. Sometimes you have very odd but brief conversations with your Airbnb guests. It's been rare but I found sometimes a guest wants to get back to Brooklyn as quick as possible because Austin was not an enjoyable experience. It's been extremely rare but I found that you might have a guest treat your well reviewed rental like a cheap motel room. After being a host on Airbnb for a few years now and meeting people from everywhere, the only problem I've had was being on the receiving end of awkward to bad social skills. The best things which have happened are making very good friends and hitting it off with people you want to keep in touch with after check out. For now, the time has come for a hiatus in booking strangers. Strangers certainly make your life interesting and especially if your sharing the dwelling with them. Be warned, interesting can mean a guest loudly coming in and out of the front door a dozen times from 5am and on til 10am. Interesting can mean using your place for their personal entrepreneurial pursuits and other mysterious activities. Airbnb is a great way to meet new people and host world travelers. Be warned what very brief stays invite into your life my friends!
(Next coughfee section)
Is Alt J really still a thing? Maybe I need to see this band live to really appreciate them, but damn they are making it pretty hard. I don't understand Alt J. I don't enjoy Alt J. I'm over it Alt guys.
Jason Isbell has won me over. Stark contrast to the above mentioned band. Superb songwriting! This music is so damn genuine and comes from a lot of hard work. Seeing a live show is very high on the list. Jason Isbell is really shaking some things up in the country genre. Extremely good music that gets constant radio play!? Wow! What a concept. Killing it!
I can't stop listening to Bayonne. Roger Sellers aka Bayonne is a beautiful human and talented composer. It all starts with that piano. Very tasty rhythm and loops can really grab your heart if you put musical notes in the right order.
CHARLES BRADLEY: A WEEK AFTER HE PASSED...
It had been days since I returned from Utopiafest 2017 until I realized what a profound impact Charles Bradley had on me. I'm up late, the significant other is passed out, and I'm weeping like a child. Of course I'm listening to his music and putting back the wine. A tragic life like that deserves a few tears and a mental snapshot of who and what he was. I'm wondering to myself, is anyone else really sinking their mind into his passing and feeling his soul like this? Maybe watching three hours of a George Harrison documentary earlier today got the emotions high. It was in the middle of a headlining set at Utopia that the news was announced Bradley passed away. Mind Blown immediately for those who were in attendance for his Utopia show two years prior! A tribute was rolled out and done in such good form, which had to be quickly organized by the festival to pull off. Shock and awe was really all that rolled around in my "in party festival mode" brain after that announcement. I did feel immensely special to be there at that time to witness this moment and share in paying respect to Charles Bradley with strangers, shoulder to shoulder. I had even remembered a joke I had made during his show, years before, remarking to a friend after visiting the front of the stage for a song that, "he's getting people pregnant up there."
Joking and inner monologue aside, as I write this I truly and deeply feel the pain he expresses in his music. I feel that man's life in my soul. How much can a man endure? So many terrible challenges that are life shattering. That's how much Bradley endured to be somebody. It's so far from reality or what most people even bother to fathom. In all my experiences "feeling" music, this feels and hurts the most because of the positive legacy he made from such darkness.

I wrote to Daptone Records days after writing this to simply say, Long live Charles and Sharon! Keep up the good work!
I love having this around. Old scratchy rough cut verbatim EP. This came thru KTSW in college. I saw the early formation of this band. The band name immediately stuck in my brain as well as the music. Sabrina Ellis wore leotards/costumes and humped the ground then too. I got this in hand circa 2009. I have the certificate of authenticity around here some where.
MAKANA MUSIC
Aloha….
I say lets wave goodbye to poke bowls (although sushi and its cohorts are excellent in many ways) and say hello to some real Hawaiinism in our beloved Austin. One show I happened upon during SX 2018 was a Hawaiian solo performer, Makana. Although his sunglasses needed there own introduction, he held quite a formidable presence on a large stage on the Sheraton lawn by himself. What struck me so much along with virtuoso slack key guitar playing talents was his short plea and speech to the sparse early set audience. The meat of that message was this, "I see what's happened to Hawaii happening in a lot of ways here in Austin. There are few winners and a lot of losers when it comes to progress and profits." Those words are so true when you make a comparison of money, culture and tourism. I've just begun to learn about Hawaii as I plan a vacation there for the first time. Some of the most important things that stand out to me are that native Hawaiians are extremely connected to nature, culture, the human experience, the soul, and healing. The boom of homogeneity and paving over everything in Austin in the name of progress is something real Hawaiians are very much against. Because, holy crap, don't pave paradise! And here in Austin, it's a paradise for a lot of creative people, very much in tune with the human experience and the soul. Hawaiians try and educate the hordes of tourists that exploit their beloved home and culture, and in this case some guests and an Austinite or two at the Sheraton downtown. Heck, I guess if people are going to flock to ATX, may they be Hawaiians not interested in real estate opportunities or hipster culture!
Of course, I risk sounding like a whiny hometown guy that can't stand change or adapt to inevitable gentrification….perhaps….but dammit! Give a damn! Especially if your from somewhere else. Hawaiians are a great example of what happens when such a special thing is exploited and ruined in the name of progress. Things have gotten super fake and commercialized all over Hawaii. Maybe old news to many, but still matters! Are they getting my tourism dollars and am I stepping off a plane to enjoy Hawaii? Yes! But I'm going with respect, awareness and understanding to enjoy what that place is really about. Not a resort on the beach. Tragic ranting over, go and listen to Makana. He and other slack key guitar players master that style from hours and perhaps a lifetime of practice. Hawaiian slack key guitar music is not for everyone but within it lots of soul, talent and entertainment there, and maybe it could be a new found appreciation to feed your music life.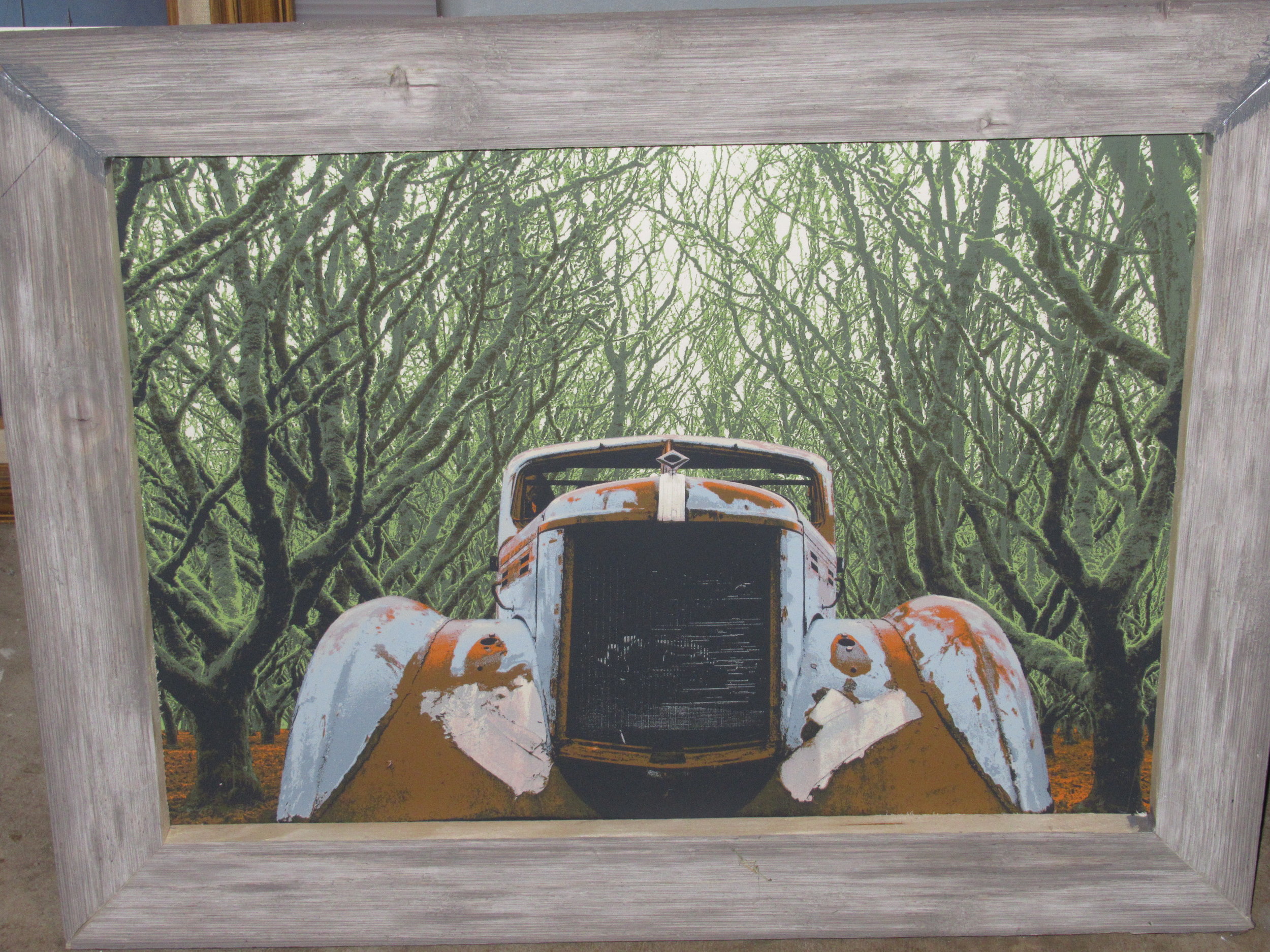 I got this print a few flatstocks ago...can't decide where to hang it... dang it..where to hang it? Man cave studio perhaps... Showing it off anyway because it's awesome. Crosshair Chicago - Silk Screen Printing and Design. That's a hazelnut orchard in the background. Don't get lost in a hazelnut orchard at night. crosshairchicago.com
oh untz
I did a random on a whim search for an EDM music and content site I wrote for in college---about a month i think---was more of an online internship. It's still running! What! The Untz. Are people talking about the Untz? Are they wearing untz and pants? That's a hard gauntlet of content to navigate. An EDM reverbnation if you will. One little secret about me: I quite enjoyed me some electronic tunes before 21 happened. I'd still listen to country in the same day. ...(identity crisis) However, nothing on the level of the likes of artists named Toadface. Anyway, don't mess with these people, they can party. http://www.theuntz.com/
The first car.
Trusty girl, you were my pride and joy. My A to B gal.
Did you Ever think we'd part?
Got those 1989 qualities. Those digital hand me down qualities.
Who'd think it take a T-Bone and a tow truck to seperate us….
O' my god are you leaking oil!? And all other essential automotive fluids...
Chrysler Valdez pollute your driveways, Ain't gettin a date anyways.
This sled ghetto in so many ways.
Comfy luxury and discount prices. Probably blown speakers too.
Estranged aunts gifts rolling deep; got home late moms pissed.

(An 89' Chrysler New Yorker served me well in my troublemaking days. I pried the cursive nameplate off the back before it was towed away and totaled.)
NO ANGRY DANCING AT BACONFEST
( .. a PSA script about saturated fats I wrote once)
OTHER GUY: Hey, you ready to go to Baconfest? I can't wait to have a fried cheese wheel smothered in ranch!
BEN: Better take you heart defibrillator. Most meat, cheese, and dairy products contain high levels of saturated fats which raise cholesterol levels in the blood. This increases the risk of heart disease and many other complications.
OTHER GUY: HOLY GUACAMOLE!
BEN: Next time your in the snackatorium, eat these things in moderation. Try foods with unsaturated fats like salmon, avocados, and peanut butter. Look up nutritionfacts.org. SPREAD THE HEALTH AROUND!